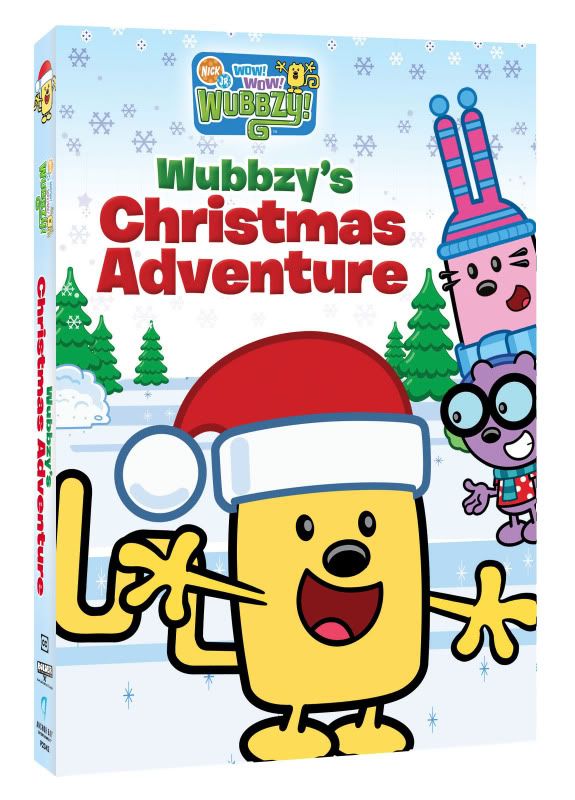 Before Halloween was even over the stores around us were putting out Christmas decorations.  My kids and I have already been watching Holiday movies and Noah asked me yesterday where the Christmas presents were at.  *Giggle* I know, it's early but we love the Holidays.  Christmas is my favorite and I just can't wait to put out our tree the weekend after Thanksgiving.  If you are a subscriber to my Behind the Scenes newsletter then you know I've already been stocking up on Christmas gifts.  Needless to say, I'm excited.
We have received two new movies for Christmas already.  The one that has been watched the most lately is Wubbzy's Christmas Adventure.  The first time putting this DVD in was just with Noah and myself.  The girls were at school.  It was very cute, plus Noah already liked the Wow! Wow! Wubbzy cartoon.  The first cartoon on the DVD shows them building a snowman and how it keeps getting knocked down.  It taught a great lesson of patience because they just kept rebuilding it until they figured out a way to include a tunnel in the middle for the sleds to travel through without knocking down the snowman.  Great way to teach not only patience but problem solving.  I'll tell you, if I was Wubbzy I wouldn't have been that happy if someone knocked down my snowman over and over.  Noah was getting excited and stayed glued to the TV.  I won't even tell you what all happened when Wubbzy tried to help decorate the town tree…  Of course at one point Noah was asking if he could have a snowball fight which unfortunately living in Texas I'm not sure that'll happen.  After all this crazy mess with Gab and late night ER visits we have spent a lot of time watching television this past week.  She has now watched Wubbzy's Christmas Adventure DVD several times, herself.  She enjoys it too.
Children's Christmas movies are a great way to get into the Spirit of the Holidays with your children.  Great family movies celebrating the Holidays really get us excited.
I am also very excited to announce that I'm giving away 3 copies of Wubbzy's Christmas Adventure to 3 lucky readers.
How to Enter: (one entry per comment)
Leave a comment telling me what you are most excited about for the Holidays.  Is it the weather, decorating, family gatherings…?
Follow @MommaDJane on twitter
Tweet this giveaway including link to post and leave comment with permalink to tweet
Blog about this giveaway and leave permalink in comment
*Contest ends Sunday, November 15th at midnight CST.  Contest is open to all US Residents 18+ in age.  All entries received after Sunday, November 15th at midnight CST will not be considered. Entries that do not follow the above entry requirements will not be considered.*
Full Disclosure: MommaDJane.com was provided with a DVD to review free of charge and has been given the opportunity to host a contest giving 3 copies away to readers through a blog post.  The above content is the sole view of the blog owner and honest, personal opinion on the product.