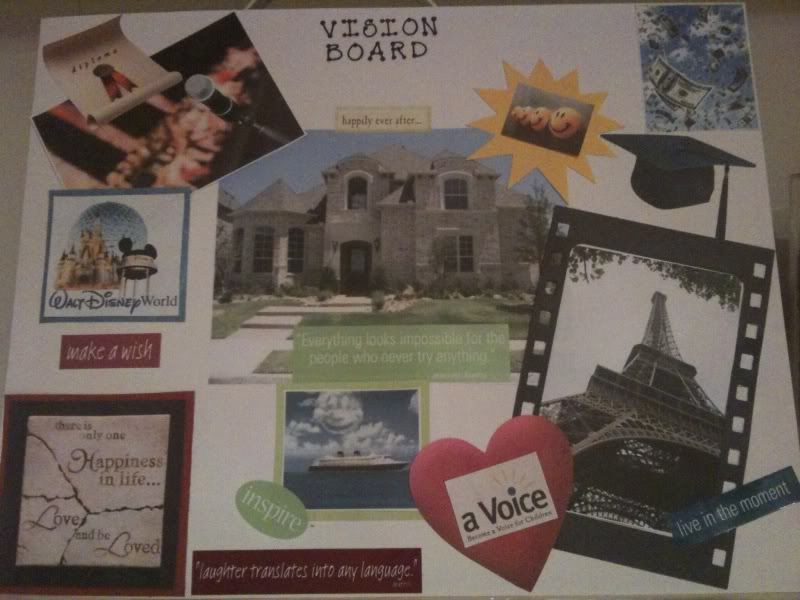 One of our projects for the 52 to Fabulous program I am working on was to create a Vision Board.  I have been wanting to make one of these for months but finally was motivated to go through with it.  I love this idea and think it's a great way to visualize your goals daily.  I finished mine tonight and plan to hang it right next to my computer desk.
I started out by finding images online that represented the goals or visions I have.  Some are short term goals and some are long term goals.  I printed the images on regular paper and then cut them out as close to the photo as I could.  I then used patterned paper and scrapbook cut outs to place some of the images on.  I used several different colors and shapes to add a nice mixture. I thought this helped accent some of the photos so it wasn't just plan printer paper pasted on the poster board.  To arrange the photos on the poster board I just scattered them around in no particular order and used stickers with various phrases to give final touches.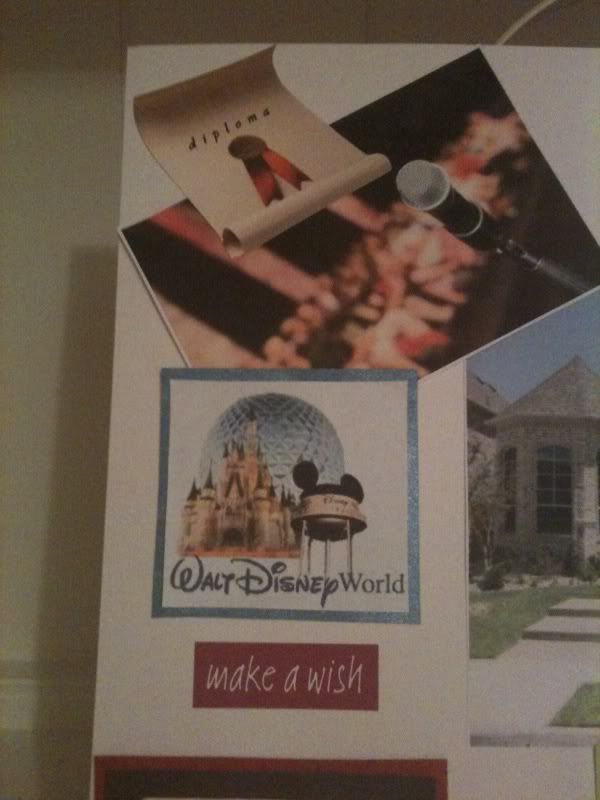 The main photo in the middle is of a random house, symbolizing my goal to purchase a new home instead of continuing to rent. To the left starting at the top I added a cut-out of a diploma since one of my goals is to complete my degree. I recently wrote about how I changed my major in college and I would like to finish the new major. That leads to the next photo which is of a crowd in front of a microphone. I would like to become a public speaker in the future on several different topics that I am passionate about. Below that image is a photo of Walt Disney World because the kids would really love to go on another vacation there soon. Maybe not this year but since our last trip there was for Gabby's Make-a-Wish trip she doesn't remember much of it anymore. She was having quite a few seizures back then.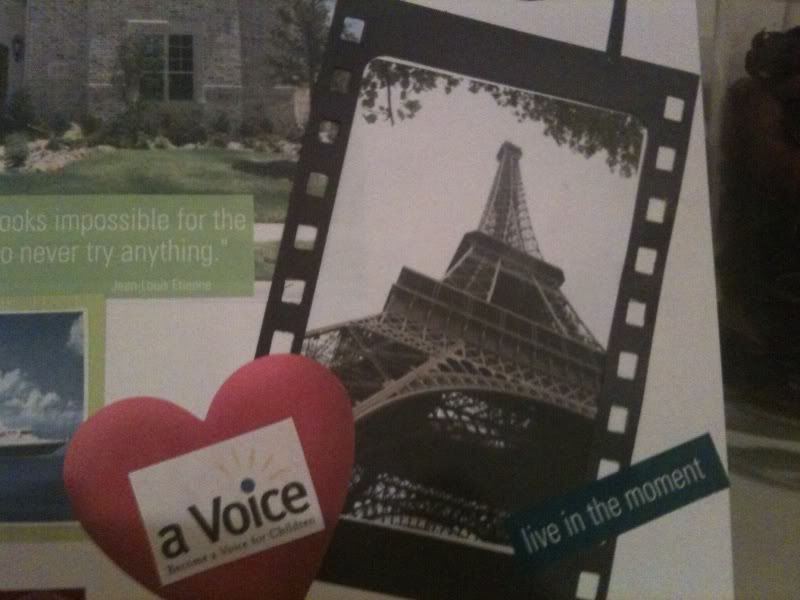 The last photo on the left at the bottom is a quote that says 'there is only one Happiness in life…. Love and be Loved' I just enjoyed this quote and want to remind myself daily to keep my heart open and to listen to it. Under the photo of the house I have an image of a Disney Cruise, this is a short term goal and we are hoping to go on one of these this Spring. Hoping… Next to that photo is a heart shape with the words 'a Voice – Become a Voice for Children' this is an image that I got off of a Foster Children website. I have always wanted to be a Foster Mom and that vision will probably never change. This is to remind me that I want to be able to one day open my home to children who need my help. I also loved the saying 'be a voice for children', which I hope to accomplish in more ways than just fostering. The photo on the bottom right is of the Eiffel Tower in Paris. I have always wanted to go to Paris and now that T is getting older she has expressed high interest in going there as well. We have discussed a plan to travel together and experience Paris for the first time for her 16th birthday. That gives me three years to plan and save. Of course if the opportunity arouse before then for us both than I wouldn't pass it up. The image above is just another cut-out which is a graduation cap to go with the diploma on the other side. The photo of happy faces is to remind me daily to keep a positive attitude. This is a big one! I want to keep focused and smiling even when it is difficult to stay positive. Now we all know money doesn't fall from the sky but I couldn't pass up adding this image to my vision board. Like most, I want to raise my income level.
I have lots of other wants and probably even some needs that I didn't add. Home, Happiness, Family, Vacation, Career, Education and Passions are all located on this board. What else could I truly need? I look forward to the day I can say I have accomplished even half of these and therefore am able to create a whole new board to work towards.
Have you created a Vision Board? Share the link with me in the comments below so I can come visit your post. I am very interested in seeing others.