While we were in San Antonio last week Gab lost yet another tooth. It had been loose for a few days and she kept messing with it just to gross me out. So finally while we were out to dinner she managed to pop it out and hand it to me. Yuck, I know!  After this happened it got me thinking that I've never blogged Gab's very first Tooth Fairy story.  So, here we go.
After Gab lost her very first tooth we were so excited.  Playing up the experience in the home just like any other 'first'.  Her big sister, T, thought it was the coolest since she had already lost all her teeth and she knew this meant here comes money!  Instead of taking time to ask Gab what she would like to do with her tooth or fully explain what takes place when you place your tooth under your pillow, we just assumed she knew.  I mean doesn't everyone know about the Tooth Fairy?  Gab must have been too young to remember her sister losing her teeth and although I do recall reading the Tooth Fairy story books we own, after surgery she forgot most of those memories.
Now don't get me wrong…  After Gab lost her first tooth she didn't seem confused or ask questions.  When that night came and we told her to put her tooth under her pillow she was eager to do it.  She was excited the Tooth Fairy was coming.  The next morning is when reality set in.  Gab woke up and checked under her pillow.
Mom: G'morning Gab. Did the Tooth Fairy visit you last night?
Gab: No, she didn't visit with me!
Mom: Well did she leave you anything under your pillow?
T: Yeah, how much money did she leave?!
Gab: There's money but WHERE'S MY TOOTH?!
Mom: (trying not to giggle) The Tooth Fairy took it and left you money
Gab: SHE STOLE MY TOOTH?!
T: (laughing very hard)
Mom: (giggling) No, she didn't steal it, you sold it to her
Gab: NO! I WANT MY TOOTH, not her money. She was supposed to VISIT me, not take my tooth!
Now although this story is hilarious now, she was very upset then. I mean, so mad. She wanted her tooth back! That dang Tooth Fairy jacked it from her to hear her tell it and when you say someone is going to visit you, that means stop by for a chat!
Needless to say I did manage to calm Gab down and explain the process to her and from that point forward she has never placed another tooth under her pillow. Don't ask me why she feels the need to keep her teeth. She doesn't have some cool collection going on either. No special place she keeps them. Matter of fact most of them she has misplaced and the one from last week is still sitting in my purse from dinner. Honestly she forgets all about them. But on the day she looses it she wants the control to decide what she does with it and not leave that control to some dang Tooth Fairy that doesn't even stop by to say hello!
{Photo from today of Gab's missing tooth}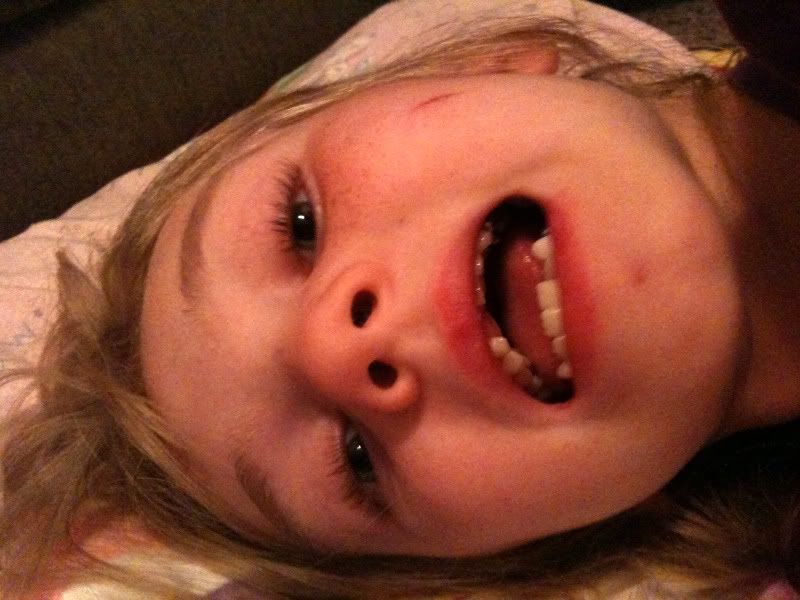 {While trying to capture a photo of Gab's missing tooth, this is the silliness I had to endure}