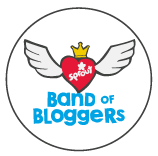 I'm proud to announce I'm one of the PBS Sprout Band of Bloggers. My kids love Sprout. Noah enjoys watching Thomas The Train and Handy Mandy while Gabby just loves Dragon Tales. Of course The Wiggles and Caillou are old favorites of Gab's that Noah is starting to love just as much.
We were so excited in August when we visited Six Flags of Fiesta Texas. They had a whole Wiggles World. It was amazing. The kids loved it and their favorite part was the Wiggles Show with the characters live. Of course both Noah and Gabby really enjoyed all the fun Wiggles theme rides as well.  Our Six Flags over Texas in Arlington (close to us) doesn't have this area so when we went to San Antonio for a small vacation it was a nice treat.
Some Sprout news to share with you all:
Halloween Costume Contest – Sprout's inviting parents to upload photos of their children in Halloween costumes and they will pick a winner a day and share the picture on The Sunny Side Up Show each weekday between 11:30 – noon ET.
Wiggles Concert Package – Sweepstakes that is taking place on SproutForParents.com and awards a trip for 4 to see The Wiggles in concert – contest ends 10/19.  Enter here.