For this week's Because I Said So Buck and I are going to discuss a topic from Juice Box Jungle.
Have you heard this in your household yet? "Please Mom? EVERYONE else is wearing them!" If you haven't yet, it's likely you will someday fairly soon, and it might be helpful to have a pre-thought-out stance when it comes to your child's 'style'.  What are your thoughts on this topic?  Do you take great pride that you have the most fashionable kid on the block (C'mon tell the truth)?
I can say I have recently heard 'but mom everyone's doing it' in my house.  I also must admit I finally gave in to my tween and allowed her to get her way.  Throughout T's life I have struggled with the fact her style is complete opposite of mine.  Fortunately I can't say that her style has been risque.  If anything I would classify her as tomboy'ish.  If she'd allow me to put her in more trendy girlie clothes, I would.
Last summer she started begging me to let her put odd colors in her hair.  When I say odd I mean it first started with pink and then progressed to blue.  In order for these colors to show up in her hair she would have had to have her hair bleached as light as possible and then add the pink or blue afterward.  Last summer I just wasn't prepare to spend money allowing her to act on her current whim.  Of course her argument was: 'but it's just hair, come on!' or 'everyone is doing it' and 'I only want a few pieces, it's not like my whole head' then I think she finally resorted to saying 'you're not fair, it's how I express myself'.  That last one was my favorite!  I still can't help but laugh when I think about it.  She didn't appreciate my giggling too much at the time.
After months of debating and then discussing fully with my hair stylist about allowing her to put a FEW pieces of blue highlights in, we came to an agreement.  Instead of trying to bleach her hair, then adding blue for it to only last two weeks before needing to be touched up again, we decided to add real hair extensions.  Yes, this was a little more costly up front (very little more), however to me it was worth it.  It lasts longer, isn't her own hair and the pieces are few and small.
I do have boundaries though and my child would not be wearing skimpy clothes just because they were in style.  I think as parents we all know for the most part what we would allow before we are approached.  I was swayed this time which just proves every situation is different.  If she came to me with a micro-mini skirt and wanted to wear it with a halter top showing her stomach, I think she better try again.
When my mother was discussing me having blue put in T's hair, I caught myself saying 'well all the kids are doing it nowadays'.  We both had to laugh.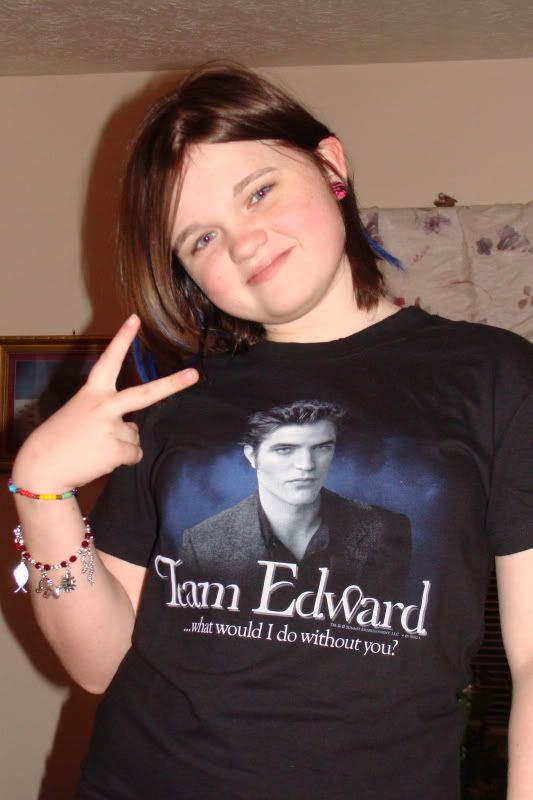 I'm headed over to read Buck's thoughts on the subject, you coming?
Have a topic or question you would like to hear our views on? Have you always wanted to hear both sides of a topic or answers to a question, unbiased? You can submit topics or questions via comments or even anonymously to djane (at) mommadjane (dot) com. We will pick questions at random and blog on one topic per week.