This shop has been compensated by Collective Bias, Inc. and its advertiser. All opinions are mine alone. #CreateWithHP #CollectiveBias
Can you believe a new school year has begun? With two in high school and one in college, there is a lot of studying happening in our home. With my oldest heading to her college classes this week we wanted to document a little of our travels for her to take with her. Thanks to the HP AMP Printer, we were able to print memories for her DIY College Binder Cover.
I have always been loyal to HP printers. With each new release, I'm amazed at what they are able to do. The all new HP AMP Printer can exclusively be found at Walmart.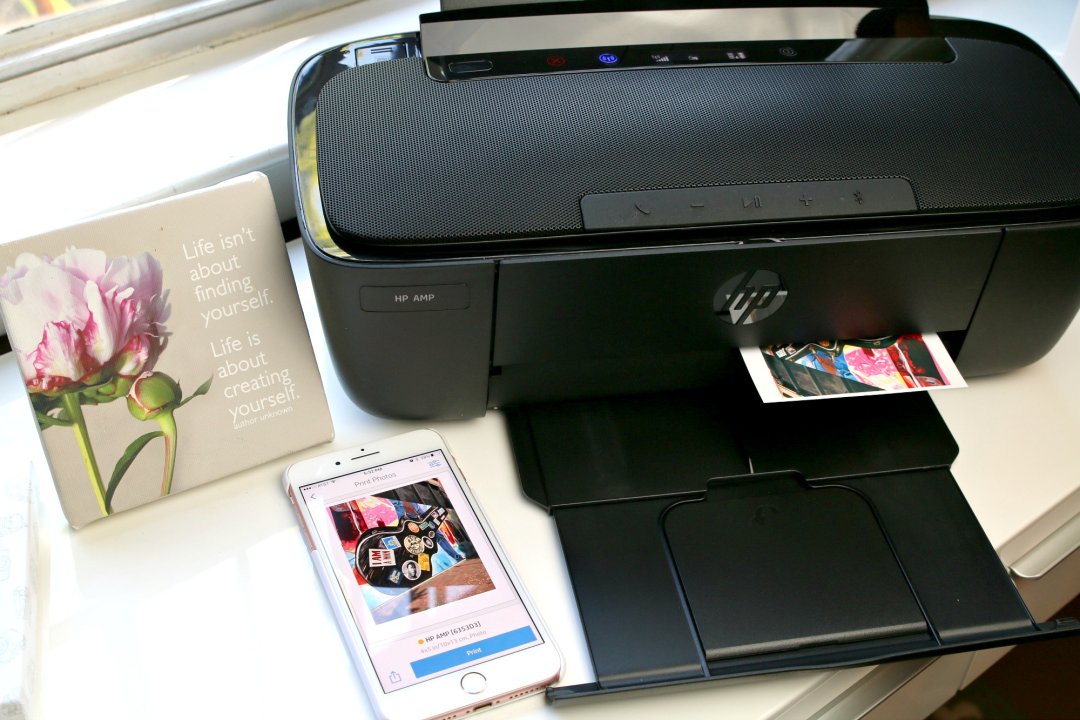 Want to get into your own BTS organization groove? Hover over the photo to shop this one-of-a-kind printer!
Check your local Walmart for a demo of the new HP AMP Printer. Friday evening and all day Saturday and Sunday, Walmart stores are showing how awesome this printer truly is.
Setting up our new printer was simple. First, I downloaded the HP mobile app. Setup was as easy as 1-2-3. I was able to connect my smartphone or tablet directly to the printer and setup my wifi network without plugging in a computer or ethernet cord.
The options for printing directly from your mobile device is literally at your fingertips. So easy! You can crop or resize with a touch. For our project, I wanted to print on 4×5 photo sticker paper. I was able to select that size option from a drop down menu.
Print photos from social media, scan on the go, easily order ink, and setup in a snap with the HP Smart app.
The quality is stunning. The colors were so bright. My sticker paper was not glossy so for the colors to be this rich was impressive. It took less than five minutes to load our photo paper, print the vacation memories she wanted to include on her DIY College Binder Cover, and complete the layout.
She selected a scrapbook paper with watermelon pattern to match her summer theme. We are holding on to the last little piece of summer vacation that we can! After laying out her photos, we decided to trim a few before pulling off the sticker backing.
You can layer more photos, but we left some extra space so she could add some new ones throughout the semester.
DIY College Binder Cover
The best part about this new HP AMP Printer, is the built-in speaker. The speaker is the full width of the printer! Although this is the world's smallest AiO printer, the speaker makes up the majority. The Bluetooth controls allow for playing music directly from your device with the Smart AMP technology. This was my daughter's favorite part.
Each of my kids always wants to listen to music while they do their homework. Nothing is worse than working on a project in complete silence. Music helps them focus and enjoy their studies more. The high-quality sounds are so impressive that I use the speaker during my workday.
The high-quality sounds are so impressive that I use the speaker during my workday. Not only do I listen to music while I work but several times a day I take conference calls directly from the printer! The built-in speaker is not only for music, there are controls right on the printer for answering calls + a built-in microphone! Once you connect your smartphone via Bluetooth, your calls can be accepted and played through the speaker. It makes listening to my conference call a breeze while I work, without the need to hold my phone.
When there is an incoming call or print job, the HP AMP Printer automatically pauses your music-stream until you are finished.
Pin for Later: