Did you see Marvel Studios Captain Marvel while it was in theaters this spring? Our family was on a Disney Cruise the day Captain Marvel opened in theaters and they offered several complimentary showings of the film on the ship for guests. Our family is huge Marvel fans so we couldn't wait to see the movie at the theaters and are just as excited to own Captain Marvel on Bluray!
With the release of Captain Marvel on digital HD and Bluray June 11th, I'm giving away a copy of the film to one lucky reader. To make movie night a little more fun, download this free printable paper glider for your own little Captain Marvel fan to play with.
Captain Marvel Free Printable Paper Glider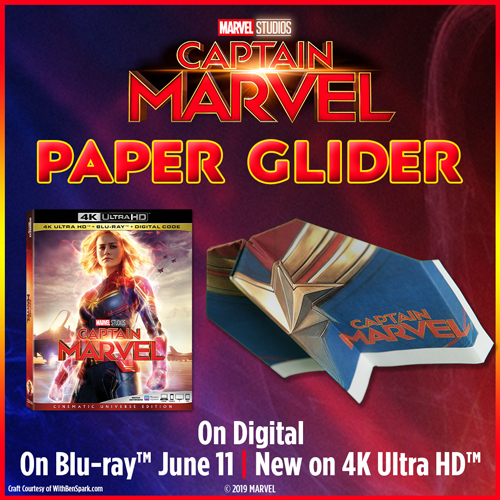 When you click the image above it will launch an automatic download of your paper glider. You will download a PDF that includes two sheets, one with instructions on how to folder your paper airplane and one sheet that has the Captain Marvel free printable paper glider on it.
I do recommend printing your Captain Marvel Free Printable Paper Glider on thicker cardstock so it will last longer. Little hands will have fun launching it around the house and bumping into walls. Thin printer paper may damage quickly. However, feel free to print as many copies as you wish!
No supplies are required after printing your glider, but if you have a paperclip handy it helps hold it together.
Captain Marvel Digital HD & Bluray
I get so excited when movies we love come out on home entertainment. It means even more stuff to see than what we were shown in the theaters. The bonus features are some of our favorite parts of home movie night. I love seeing how a movie is made and gag reels are always good for a laugh.
BONUS MATERIAL (may vary by retailer):
Blu-ray & Digital:
Alternate Movie Versions
Movie with Intro– An introduction by directors/screenwriters Anna Boden & Ryan Fleck.
Movie with Commentary– Commentary by directors/screenwriters Anna Boden & Ryan Fleck.
Featurettes:
Becoming a Super Hero– Follow Brie Larson's journey as she joins the MCU, and see what it takes to be a Marvel Super Hero in every sense of the word.
Big Hero Moment– Explore how impactful Captain Marvel's entrance into the MCU is, and how she inspires audiences around the world.
The Origin of Nick Fury– Witness some of the MCU's most significant events through Nick Fury's eyes, and see how his influence helped shape the MCU.
The Dream Team– Discover why Anna Boden & Ryan Fleck are the perfect pair to direct Marvel Studios' most powerful hero.
The Skrulls and the Kree– Take a deeper look into the Skrulls and the Kree, their ongoing conflict, and the importance of shifting perspectives in the film.
Hiss-sterical Cat-titude– The cast and crew dish on working with Goose and the raw talent it takes to portray such a complex character on-screen.
Deleted Scenes
"Who Do You Admire Above All Others?"– Kree Commander Yon-Rogg must answer to the Supreme Intelligence, who questions his leadership ability.
Starforce Recruits– Yon-Rogg lectures a roomful of students on the Kree's mission to defend all nations from the scourge of the Skrulls.
Heading to Torfa– Vers (Danvers) and her fellow Starforce members banter as they prepare for their rescue mission to Torfa.
"What, No Smile?"– In this alternate version of a scene from the movie, Vers is consulting a map when she receives a dubious offer of assistance.
Black Box– Keller attempts to track Vers and Fury after their escape in a quadjet from the Joint USAFA Facility.
Rookie Mistake– Novice S.H.I.E.L.D. agent Phil Coulson helps Director Keller out of an embarrassing situation.
Gag Reel– The fate of the universe hangs in the balance as the cast battles props, flubs and Flerkens in these outtakes from the set.
Digital Exclusives:
o Journey into Visual Effects with Victoria Alonso – Experience how filmmakers' visions of the MCU come to life on-screen through the skill of the Visual Effects team.
What Makes a Memory: Inside the "Mind Frack"– What does it take to craft an action-packed sequence for a Marvel Studios film? Nothing short of an epic team effort!
Concept Art– Explore artwork from "Captain Marvel" and trace the visual development of characters.
On-Set Images– Uncover a trove of behind-the-scenes and production photography.
One lucky reader will win a copy of Captain Marvel, thanks to the studios for providing our family with a copy to review and a copy to giveaway. Entry is simple, just follow the instructions on the Rafflecopter form below.
a Rafflecopter giveaway