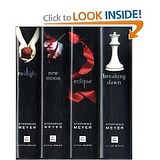 Right now with New Moon just coming out I can't forget to include the Twilight Series in my gift guide. T already has read and owns each book from last year but my niece is asking for this collection for Christmas so it's on our shopping list again this Holiday season. Retail Value: $83.00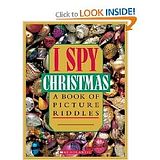 Every time Gab goes into the hospital for any surgery or procedure she always reads the I Spy books. Child Life works with her and while they are starting her IVs they occupy her with these books. Having her search for the different items on each page is a great distraction. She just loves the whole I Spy series, especially the Disney ones. Retail Value: $13.99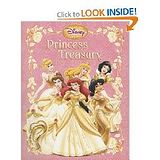 This is a favorite book in our home. When Make-a-Wish sent us to Disney World for Gab's Wish Trip this was the one item she got with her money. Out of all the souvenirs at Disney World the only thing she wanted was this book. She still to this day, two years later, looks at the pages and has me read her stories daily out of it. I must say this is one item we would replace if something happened to it. It is a family must have in our home. Retail Value: $19.99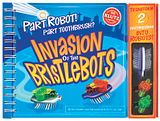 I was given the opportunity to review this book recently. I have since then put it in my closet to be wrapped for Noah for Christmas. I just love this book and can not wait to play with him! This is the coolest book ever, it was even awarded the 2009 Toy of the Year Award from FamilyFun magazine. Although the book says for ages 8 and up I just couldn't give it to my nephew, I had to keep it for us. I think the Bristle Bots will be fun for Noah and I to do together, he is not quite four but I know I can help him and he will enjoy it. Retail Value: $19.95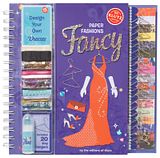 Since T's main gift this year is an Art Easel set with paints, canvas and paper this book is going to make a great gift for her. The Paper Fashions Fancy book is not just paper dolls. This great book comes with stencils and paper to be used as clothing patterns. T will love using this book along with her ideas to make great creations on her Easel. She doesn't have to just keep everything inside this book, that's the beauty of it. She can use it as a template to make full size sketches on her canvas and work towards being a real designer. Retail Value: $21.95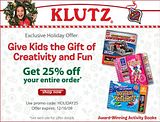 To find more Klutz Books and save this holiday season, use the above coupon code to save 25% off your entire order and have shipped directly to you or the person receiving the gift.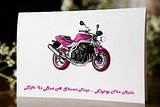 I just love stationery.  There is something about a hand written note for any occasion, even if just to say hi.  T writes her father quite often so she always loves receiving new stationery.  I know in her stocking this year I am including some new note cards for her.  Plus I can't wait to send out our new Thank You cards after Christmas.  She's Got Papers has some lovely stationery and right now you can save 10% off your entire order by using coupon code SGP10.
I can't wait to order my personalized momAgenda planner this month.  I just love these planners and haven't decided if I want the pink or the green.  Tough decisions!  I have thought about getting one of these fabulous planners for my mom for Christmas as well, they make great gifts and is something you need right after the Holidays are over and the new year starts. Retail Value: $42.00
Full Disclosure: All the opinions expressed in this post are 100% true and solely the opinions of the blog owner.  MommaDJane.com is listed as an affiliate for several companies and therefore some links within this post could be affiliate links. No companies paid to be referenced in this gift guide.