Last April we purchased a Boxer puppy and named her Nicollette.  Our plans are to have her therapy trained for Gab.  Our family enjoys participating in 5Ks for several charity events and want to be able to eventually take Nicki with us.  She is so hyper, playful and full of life yet the sweetest dog.  She loves to play and will climb right on top of you as if she was tiny.
Today Nicki turned one year old.  The girls were out of school today so we were able to spend the morning celebrating.  Nicki had a birthday balloon, that obviously Gab enjoyed more than her, and some amazing doggy gourmet treats with icing.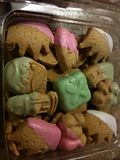 We have never given her these kind of treats before so they were a special treat on her special day.  She loved them.  I tried taking a photo with the container in front of her with the bow on top and she had the container half way eaten before I could snap a photo.
We also gave her a brand new bone that she loved.  I would have had fun planning the very first doggy birthday party with some friends and their dogs but I can't seem to get Nicki to calm down long enough to be around other animals.  She wants to show them all she is the boss and box them around.  Maybe next year…